HIV prevention is an important topic regardless of sexual orientation or gender identity. Anyone can be at risk for HIV transmission – but for gender-diverse folks, navigating HIV prevention methods such as PrEP can be tricky. 
Gender-diverse persons make up approximately 1% of the adult population across the globe. This includes those who identify as non-binary/non-conforming/gender-fluid (neither male nor female) or transgender. This population is undoubtedly expected to grow in the near future as up to 25% of LGBTQ youth identify as non-binary.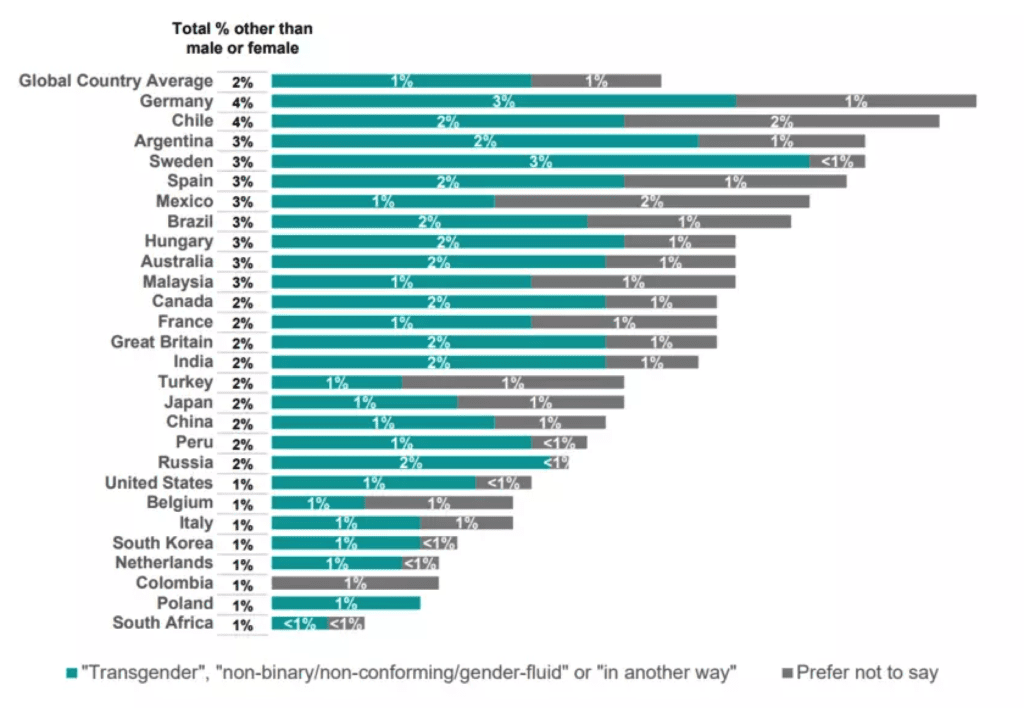 Unfortunately, the risk for HIV among gender and sexual minorities is proportionally higher for people who identify as part of the LGBTQ+ community. The latest reports estimate that the risk of HIV transmission is 13 times higher for gender-diverse people compared to the entire population. 
There are many reasons why this risk factor is so proportionally high. Stigma and discrimination, along with violence towards these populations, have put many people at risk. There is also a lot of misinformation and even mistreatment within the healthcare industry regarding HIV prevention with testing and health services. These factors have often kept gender-diverse people from exploring HIV prevention methods or consulting a doctor about their risk. 
However, everyone needs to know how to prevent HIV transmission and keep themselves and others protected. Here's what gender diverse people need to know for effective HIV prevention:
HIV Prevention Methods for Everyone
Understanding what HIV is and how it is transmitted is the first step towards effective HIV prevention strategies for transgender populations and gender diverse people. HIV is a virus that is transmitted through bodily fluids, such as blood, semen, vaginal fluids, rectal fluids, and breast milk. 
It is typically transmitted through unprotected or condomless sexual intercourse or shared intravenous needles. HIV can also be transmitted from mother to child during birth or through breastfeeding. However, HIV is not transmitted through more casual contact, such as a sneezing, coughing, touching, or kissing.
Those who identify as gender diverse can protect themselves by avoiding high-risk behaviors which commonly lead to exposure. First and foremost, non-binary and transgender folks should always use condoms during sexual intercourse. HIV transmission is highest through receptive anal or vaginal sex, and using a condom can diminish this risk significantly. 
Another important step in HIV prevention is to keep up with regular testing to monitor your status. The CDC recommends that people at higher risk of transmission be tested for HIV every year and within 90 days after potential exposure. Encouraging partners to get tested for HIV is another tip to help lower your risk of exposure. 
Most doctor's offices and clinics around the country offer HIV testing services. You can find an HIV testing center in your area here!
PrEP for Gender Diverse People
One of the most effective ways to lower the rate of HIV in trans populations and among gender diverse groups is through PrEP. PrEP (pre-exposure prophylaxis) is a medication that can lower a person's risk of HIV transmission by up to 99%. This medication works by preventing the virus from reproducing within the host's body. So even if you are exposed through condomless sex, your risk of transmission is far lower. 
Now, many gender diverse people wonder if they can take this HIV prevention method, as this medication is only approved for some genders. For instance, the oral medication Descovy is currently available only for cisgender males and transgender females. Further, there is the question of complication and interference for people who identify as transgender and are currently taking gender-affirming hormone therapy. 
The good news is that new studies that looked at PrEP for trans people found it equally effective for cisgender folks. There is also no evidence that this medication interferes with gender-affirming hormones. 
How to Talk to Your Doctor About PrEP if You Identify as Trans or Non-Binary
To start taking PrEP for HIV prevention, you will need a prescription from a doctor. As previously mentioned, transgender and gender-diverse people often face a lot of discrimination and mistreatment when it comes to medical care. Setting up an appointment to speak to a medical professional about going on PrEP can be more difficult for a gender-diverse person. 
However, if you are at risk of HIV transmission, using PrEP for HIV prevention is highly recommended. First, you can connect with great organizations in your area that offer HIV care services and provide PrEP. Many clinics accept most forms of insurance or offer low-cost testing rates.  
Preparing for your appointment can also help to ease any anxiety you may be feeling. First, do some research on your own so you understand a bit more about what to expect with PrEP. You may also want to compile your medical history record if you are visiting a new healthcare provider. Next, compile a list of questions to ask, such as:
What form of PrEP is going to be the best option for me?
How often will I need to take the medication?
What side effects will I experience and what should I do if I start to feel them?
Are there any long-term risks to taking PrEP I should be aware of based on my medical history?
Where can I pick up my PrEP prescription?
No matter how you identify, you should be doing all you can to reduce your risk of HIV transmission. Taking PrEP for HIV prevention can help anyone safeguard themselves and others and help to end HIV together. 
Have More Questions About PrEP and HIV Prevention? 
If you identify as non-binary, gender-fluid, transgender, or gender diverse and want to know more about HIV prevention, you can connect with SIDE by SIDE. Our organization is based out of Indiana can help you get in touch with local organizations for useful resources like testing and medical care. 
Our team is also available to offer you useful resources and answer questions you have about PrEP, HIV prevention, and risk factors. Reach out to us online to get the conversation started!